Today, our company obtained the "High-tech Enterprise" certificate again. The certificate number is GR2019442005413, which is jointly issued by Shenzhen Municipal Finance Bureau, Shenzhen Municipal Science and Technology Innovation Commission, State Administration of Taxation, and Shenzhen Municipal Taxation Bureau. The threshold for national high-tech enterprises is high, and they must go through strict evaluation and approval procedures. Shenzhen Aglare Lighting Co., Ltd. was once again awarded as a high-tech enterprise with its strong technical strength, which indicates that the company has obtained the R & D and innovation approval of relevant national departments.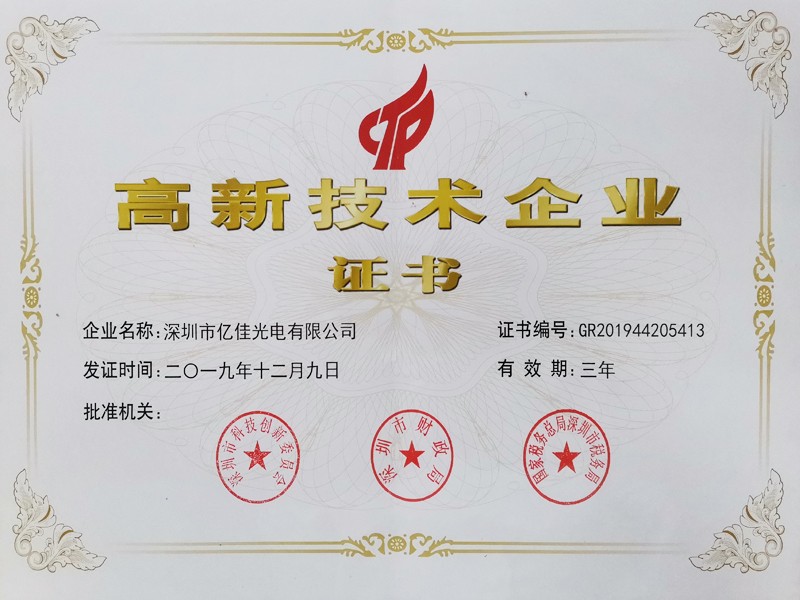 High-tech enterprises are identified as a comprehensive assessment and appraisal of the company's core independent intellectual property rights, scientific and technological achievements transformation capabilities, R & D organization management level, growth indicators and talent structure, which need to be screened at various levels, and the review is quite strict. The company's ultimate success indicates that the company has received strong support and recognition from the state in terms of innovation research and development, and at the same time, has actively promoted the company's independent innovation and development of the research and development process.
The company will continue to uphold the "pioneering and innovative" concept, continue to increase investment in research and development, cultivate talents, enhance the core competitiveness of the enterprise, and provide a steady stream of talents and technical support for the company's subsequent development!